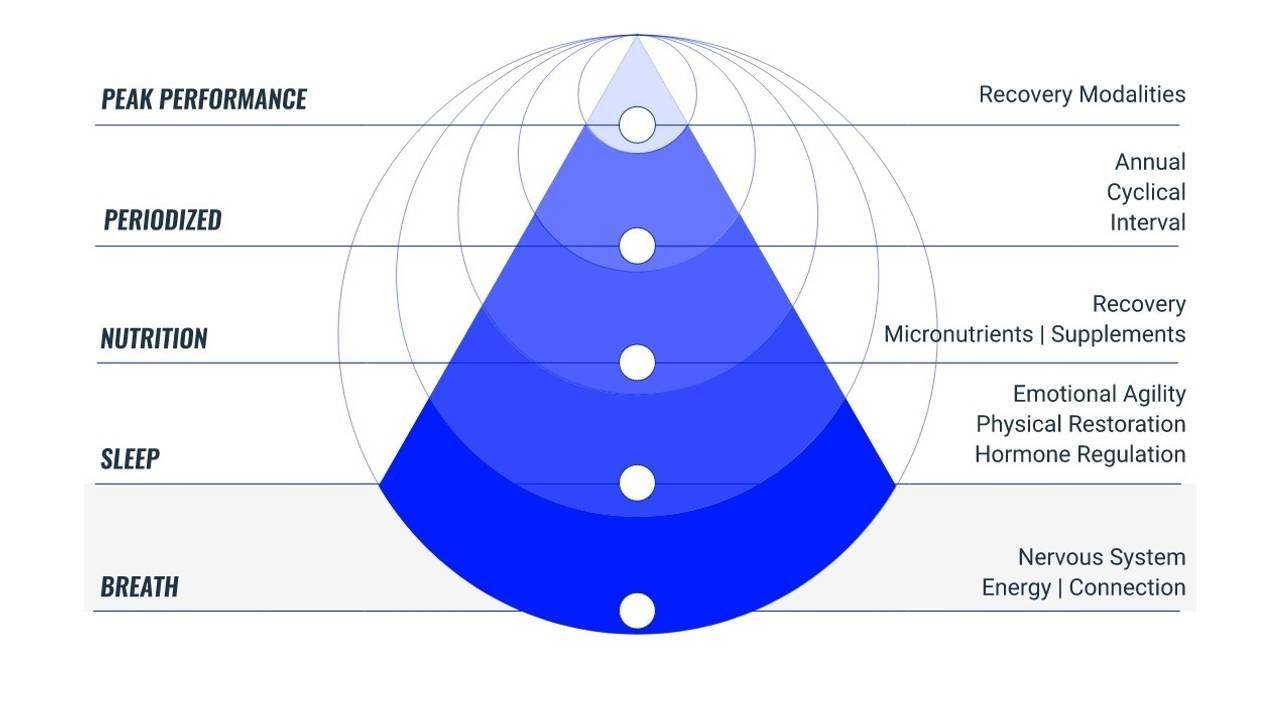 Pillar: Recovery
Breath
Nasal Breathing is scientifically proven to increase performance. It's all about the movement of nitric acid! At the very core of this technique is to teach the body how to release the oxygen to improve health and achieve greater endurance, strength and power. Literally breathing is life force!
PLEASE NOTE: Pelvic Floor Health resources are found in the Female Physiology Page
VIDEO 
In this linked video, Tyler Huston, founder and owner of Breath Control, shares with us the science of breathing and some techniques to start improving your functional breathing.
Resources 
1. Breathing: The Oxygen Advantage
This document will assist you in taking the first steps to improving your breath function. It starts with bringing awareness to your Body Oxygen Level Test (BOLT) Score. Then outlines a number of steps and techniques to improve your score (and your breathing). 
PILLAR: RECOVERY
Sleep
Sleep in the past decade has risen to the top of human health conversation. The research shows clearly that on just 6-7 hours of sleep we can:
Demolish our immune system
Double risk of cancer
Key development of Alzheimer's Disease
Increases likelihood of blocking coronary arteries
Increases likelihood of anxiety and depression
Increases desire to eat more
Getting 7-8 hours of sleep sets us up with the foundation for optimal health and body composition. Research shows that it helps us:
learn, memorize and make logical decisions and choices.
respond and navigate social and psychological challenges (Emotional IQ)
manage painful experiences and inspire creativity.
Specific to body composition sleep enables us to fine tune the balance of insulin and circulating glucose, regulates appetite and supports that beautiful microbiome for which all nutritional health begins. Finally it is intimately tied to cardiovascular fitness and lowering blood pressure.
This is why the MNTR-ITS has sleep as a health fundamental. Without sleep we simply can not build on enough habits to counteract the potential damage that a lack of restoration imposes. We also know that lack of sleep or sleep disruption is one of the most common complaints of females that are in perimenopause or beyond.
One important component of how to generate and optimize our sleep is actually what we do and when, whilst we are awake. This is because every single cell of our body, and every aspect of how our body functions is tied to the Circadian Clock. This rhythm is impacted by the light/dark cycle, when we exercise and eat. Our whole digestive system and in particular our liver is under circadian control. To learn more about how we can align our physiological processes to the circadian clock check out the two resources below. 
Sleep (PDF): What is sleep, how we generate sleep and solutions when our sleep patterns are off. 
Your Circadian Clock (PDF) : Learn about shifting your circadian rhythm when you travel or when you have shifted off your chronotype!